Guido Segni - Works 2012 | 2016 - I think it was internet art but I was just typing.
Author

edited by Filippo Lorenzin and Andrea Tinterri

Publisher / Label

Guido Segni

Country

Italy

Language

English

Publication year

2016

Type of publication

Catalogue

Number of pages

64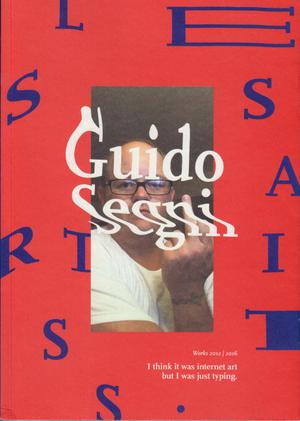 Index
1. Something about Guido Segni   1
2. Critical Texts   2

3  Exploiting the Crowd

4  Crowdworkers of the world united in a gesture
   The middle Finger Response

10 Pics or it didn't happen.
   Proofs of Existence of a Cloud Worker

14 We are the 99% on Fiverr.com
   Work Less, Work All.

21 Internet Realities

22 Filling the data centers of tumblr and leaving the desert behind.
   One post a time.
   A Quite Desert Failure.

26 After Post Internet There Will Be Only, Always, Past Internet

28 Top Expiring Internet Artists.

31 Beyond The Internet

32 A history of conceptual art for badasses.
   A Is For Art, B Is For Bullshit.

36 Pics Or It Didn't Happen

40 Wiring Wired Fired.

46 More Audience, Less Artists.

48 Banality Is Overrated.

53 Early Works

54 15 Minutes Anonymous

58 Through The Looking Glass And What I Found There.

60 Selected Exhibitions.

62 Press & Texts.