Holo 2
Author

VVAA

Publisher / Label

Creative Applications

Country

Canada

Language

English

Publication year

2016

Type of publication

Magazines

Number of pages

218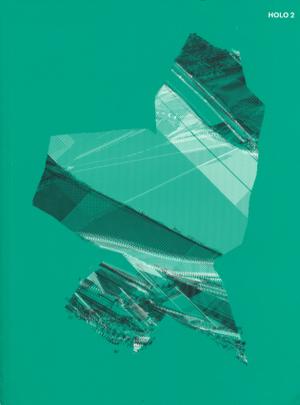 Index
Directory

I. Encounters

Inside the artist's studio

32
Ryoichi Kurokawa
Orders of Magnitude
Berlin (DE)

44
Vera Molnar 
Machine Imaginaire 
Paris (FR)

60
JOffl Lehni 
The Ohost Writer 
ZQrlch (CH)

72
Tale of Tales
Endgame
Ohent(BE)

II. Perspective

On# theme, multiple angles

85
IF/THEN
Chance, (Uncertainty, 
and the Search for True 
Randomneu

86
A Rude and Undigested Mm 
Casey Reas on chance as a 
creative catalyst—and what 
giving up (some) control 
means for authorship.

88
One Million Random Digits 
From the Manhattan Project 
to post-Snowden security, 
the curious history of random 
number generation.

95,101,120,135,145
Memes
Bite-sized ruminations on the 
science behind five big ifs.

96
Results May Vary 
An illustrated guide to ten 
works of art drawing on (and 
with) unpredictable forces.

100
Not-So-Random Numbers 
Mathematical curiosities, 
superstition, and plain old 
luck—the stories behind 
eleven significant digits.

102
Cloudy With a Chance of Rain 
Forecast be damned: nine 
artists who harnessed wind, 
engineered clouds, and 
chased storms.

114
In Conversation: C—ty 
and Scott Aaronson 
A software artist and a 
computer scientist discuss 
how randomness courses 
through the universs.

122
To Infinity... and Beyond!
As far as the eye can see-, 
a videogame travelogue of 
a trillion random worlds.

128
Form Follows Function 
Code and commentary on 
five classic algorithms that 
use random values to 
generate complex form.

136
Boom, Bust, Repeat? 
Digging into the theories of 
an obscure Soviet economist 
to make sense of the nascetf 
predictive analytics industry

144
The Monte Carlo Book Cfajjj
Explosive yields and market
crashes: 'essential readings 
in randomness' bibliography.

146
Twentieth Century Faux 
Thirteen errant predictions 
that reveal our grasp of 'the
future' is tenuous.

III. Encounters

164
Rafael Lozano-Hemmer 
Citizens United 
Montreal (CA)

178
Katie Paterson
All the Time in the World
Berlin (DE)

188
Timo Arnall 
Hidden in Plain Sight 
London (UK)

IV. Grid

Key nodes in the network

202
Super Symmetry 
Aligning art and science at 
CERN, SETI, and other global 
research institutes.

V. Frames

Tools in the making

214
Eminent Domain 
Does the arrival of the Oculus 
Rift mark the beginning of a 
new era for virtual reality?

VI. Stream

Future unfolding 

226
Emerging trajectories in art,
science, and technology—a HOLO 
timeline of the year 2015.