Ear Lights, Eye Sounds. Expanded Cracked Everyday Electronics
Author

Edited by Andy Guhl, Tabea Guhl, Flurina and Gianni Paravicini

Publisher / Label

EDIZIONI PERIFERIA

Country

Switzerland

Language

English

Publication year

2014

Type of publication

Book

Number of pages

272

ISBN

9783906016283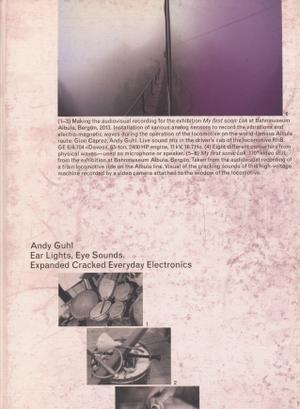 Index
Essays 

Noise or Avant-Garde   17
by Gieri Battaglia
Gieri Battaglia is a jazz pianist military bugler, 
and teacher, and lives in Rorschach.

"Musically Close to Zero   23 
and Zilch" A Letter to 
a Swiss Radio Studio
by Franziska Kohler
Franziska Kohler, author, reader, journalist 
(Tages-Anzeiger). Zurich.

When Jazz Started to   27 
Move in New Directions 
in St. Gallen
by Richard Butz
Richard Butz, born in 1943, is a journalist, 
author, adult educator, and culture mediator 
in St Gallen. He manages the concert series 
"kleinaberfein."

St. Gallen Has Not   33 
Yet Fallen
by Hansruedi Fricker
H. R. Fricker, bom in 1947, is a conceptual artist 
who lives inTrogen, Switzerland.

On the Sound Crocodile   63 
from the Sittertobel or 
How the Magnetic Fields 
of an Electric Razor Came 
to Be Behind the Altar
by Andres Bosshard
Andres Bosshard is a Swiss musician and artist 
in the field of sound art and sound architecture.

Breaking the Code, or   69 
"Cracked Everyday 
Electronics"! Norbert 
Moslang and Andy Guhl: 
Two Tinguelys of the 
Art of Noise
by Johannes Anders
Johannes Anders, formerly a film technician 
specializing in Etalonage/color grading and trained 
as a music journalist has been writing about jazz, 
new music, and related fields since 1970.

It's NotThat Simple   85
by Nicolas Collins
Nicolas Collins, artist musician, and lecturer 
(School of the Art Institute of Chicago).

He Is Digging in the	89 
Machines
by Richard Jean
Richard Jean, born in Sion, is a musician and a 
guy with a camera in his hand who lives and works 
in Valais, in the middle of the Swiss Alps.

Cracked Everyday Life   101 
Thoughts on Kick 
That Habit, a Film by 
Peter Liechti
by Mike Bullock
Mike Bullock, musician, artist, and professor 
(University of Massachusetts, Boston).

Moslang/Guhl   107
by Ralph Hug
Ralph Hug is a Germanist journalist, and author 
with a focus on history, trade unions, politics, 
and the Spanish Civil War.

Discovery, with the   127 
Work of Voice Crack
by eRikm
eRikm is a Marseille-based artist.

Looped	133
by Konrad Bitterli
Konrad Bitterli is a curator and vice director 
of the Kunstmuseum St. Gallen. He teaches 
curatorial practice at the Zeppelin University 
in Friedrichshafen. He also loves Westerns.

From Nothing to   139 
Everything Notes about 
Voice Crack in Chicago
by John Corbett
John Corbett is a writer and curator based in Chicago.
He was co-organizer of the Empty Bottle Series of 
Jazz and Improvised Music from 1996 to 2005 and is the 
author of Extended Play: Sounding Off from John Cage 
to Dr. Funkenstein and several books on Sun Ra. He 
co-founded the gallery Corbett vs. Dempsey in Chicago.

From the Innards of 141 
Electronics
by Christian Pauli
Christian Pauli studied ethnology, music ethnology, 
and history at the Universities of Bern and Zurich. 
Co-director of the Dampf zentrale cultural center.
Journalistic work and bass playing in the Swiss bands 
Alboth! and Starfish.

Speed Up   143
by Konrad Bitterli

Not More Than Five   145 
Francs
by Markus Detmer
Markus Detmer has been living and working in 
Perpignan in southern France since 2011. In 1998 
in Cologne, the musician and journalist established 
the label Staubgold, with which he then moved to 
Berlin in 2003. Along withTimo Reuber, he has been 
playing in the electronic duo Klangwart since 1996.

Input, 1998-99   149
by Katharina Stoll-Cavelti
Katharina Stoll-Cavelti is an art historian and 
primary school teacher and school supervisor in Wil,
Switzerland.

Poire_Z	  151
Gunter Muller, eRikm, Voice Crack
Source: Wikipedia

CanaleVisuale   159
by Konrad Bitterli

A Dazzling Flash, You 173 
Jerk Backwards, After 
The Shrill Noise There 
Is Crackling, Cracking, 
Hissing Again
by Salome Schmuki
Salome Schmuki is a graphic designer based in St.
Gallen and Brussels. She works on her own research 
into dyslexia and readability as well as with clients 
in the field of contemporary art.

Quasar	185 
Or, of Dancing Light 
and Drawn Sounds
by Charlotte Hug
Charlotte Hug is a composer, musician, and 
visual artist who lives in Zurich and on the road.
She is known for her room scores with Son-lcons 
and performances at special locations.

Student Questions after   205 
Lecture by Andy Guhl at 
the School of Design,
Jiangnan University, Wuxi
Notes byTabea Guhl
Tabea Guhl is a graphic designer and cultural producer 
with an office based in Zurich.

Noise is Never Free   207 
Mini Midi Festival Beijing
by Yan Jun
Yan Jun is an improviser and writer based in 
Beijing, yanjun.org and subjam.org

Cracked Everyday   213 
Voice Crack's Art and 
Music
by Jason Kahn
Jason Kahn is a musician, artist, and writer.
He is currently based in Zurich.

"Andy Guhl:	225 
Hacking the World"
by Dr. Mark Staff Brandi
Dr. Mark Staff Brandi, an artist and art historian, 
was born near Chicago in 1955 and lives in 
Trogen, Switzerland. He makes an aggressively 
mongrel art, mixing painting, installation, 
sequentiality (comics), sign-painting, and 
metaphor theory.

What a Tremendous   231 
Row! Encounters with 
Andy Guhl
by Timo Reuber
Timo Reuber lives and works as a freelance musician 
and author in Cologne. Concert performances 
around the world as Reuber (solo) and in Klangwart 
(with Markus Detmer).

Andy Guhl: Source of Art   237
by Alex Gamez
Alex Gamez graduated with a degree in optics 
and optometry from UPC University. He works under 
the moniker Asferico and founded "Stdrung," a 
platform for electronic and experimental music and 
visual arts in Barcelona. He manages the label 
Flat Mate Music.

I love this error	243
by Yan Jun
Material from: Marc Namblard "The blog"
(translated by software), World of Warcraft,
National Geographic Azeroth forum.

Interview with   245 
Andy Guhl
by Mario Gabola
Mario Gabola is a musician in the experimental 
Neapolitan duo "Aspec[t]M with a degree in 
environmental sciences. Founder of the label 
Viande Records.

Schoolchildren Research   249 
Cracked Everyday 
Electronics
by Cornelia Spillmann & 
Stefanie Kasper
The artist@work program, organized by the 
Department of Culture and the local education 
authority, enables schoolchildren of all ages to 
visit artists' studios and encounter artworks in 
the place where they are made. Stefanie Kasper 
works as a freelance art historian and art mediator.
Cornelia Spillmann is an art mediator with a 
focus on schools and education.

A Sounding Vision 251 
Andy Guhl's Synaesthetic 
Interference
by Mike Bullock
The article appeared in Le Phare Magazine in 
conjunction with the launch of the boo, Paris, 2014

Sound Reasons   257
A Sound Art Festival
in Delhi
by |sh Shehrawat
Ish Shehrawat (Ish S) is a composer, sound
artist, and producer based in Delhi.

Synchronous 259
Transformations
Hacking Expectations 
and Conventions
by Jan Schacher
An artist-researcher, Jasch (Jan Schacher) is
active in electronic, exploratory, and contemporary
forms of music, live-performance, and media art.
His main focus lies on works for the stage and
exhibitions that combine digital media and gestural
performance.

The (Historical) Sound   261
 of Images
by Peter Kraut
Peter Kraut studied history, sociology, and political 
science. He works as a socila scientist, author,
organizer, and mediator across the entire spectrum
of contemporary music, at he point of intersection
between sound studies, visual arts, and pop culture.
He was co-curator of the exhibition A House Full
of Music in Darmstadt in 2012 and currently works 
as a lecturer and leadin member of the Music
Department at the Bern University of the Arts (BUA)

Distilled from a   265 
Conversatiion 
on November 5, 2013
by Peter Hubacher
Peter Hubacher lives and works in Herisau in the 
Canton of Appenzell Ausserrhoden, Switzerland.
He is joint owner of Keller-Hubacher.Architekten in
Herisau and was a member of the Swiss Federal 
Art Commission from 2005 to 2011.

My first sonic Lok   267 
Andy Guhl at the 
Bahnmuseum Albula
by Nora Hauswirth and Pius Tschumi
PiuTschumi lives and works in Zurich and Chur
as an exhibition organizer and is a curator of the Bahn- 
museum Albula in Bergun.
Nora Hauswirth, managing director of a photo agency,
has worked for Kunstumsetzung GmbH and for the
Bahnmuseum Bergun since 2011, in addition to freelance
project work in the field of photography / culture.