Artbyte - The Magazine of Digital Arts & Culture - Unleashed
Author

Gabriella Fanning

Publisher / Label

Artbyte Magazine Inc.

Country

USA

Language

English

Publication year

2001

Type of publication

Magazines

Issue number

Vol. 3 No. 6

Number of pages

92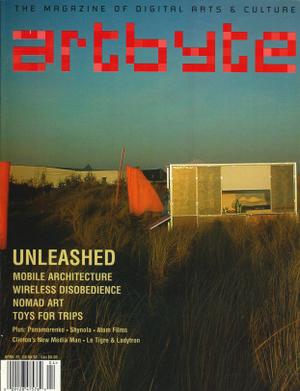 Index
contents

items
12 Wexner Center kicks out the jams . Telematic exhibit serves
uo mixed greens . UN report shows digital divide widening . 
Sputik7's Epitonic grab maes sense . Pinknoises celebrates the
music behind the women . Digital art gets its big-time propers . 
Sundance Online generates so-so buzz . Programmers featured at
DIY festival . What Willam Blake and Pope Pius IX have in common.

columns
21 Dispatch
Digital animation team Shynola has best British bands camped outside
their London flat eating kebabs, begging for a video. By Hanh Bui

28 Site Specific
SFMOMA and web design firm Perimetre-Flux draw a fine line between
Net art and the virtual gallery with 010101. By Glen Helfand

30 Mobile Report
Two new awards hope to gain e-books the respect they think they
deserve. By Michael Burger

32 Digitools
The Burning Man festival is months away, but a multimedia artist with
unlimited funds would do well to start gearng up now. By David Kushner

36 Buzzword
Pete Townshend, Donovan McNabb, Wim Ouboter, Dominic Bangera,
Tim Gilmer and the School of Library Information Sciences at the
University of Alberta, Canada offer insight into the word "mobile."

38 Chat
Mark Kitchens was Bill Clinton's new media watchdog. Reached at the
West Wing during the administration's final days, Kitchens look back
on the rise of the Internet press and its mark on history.

40 Cyberpolitics
Wireless technology became part of the monkey-wrencher's toolbox at
the "Battle of Seattle," but it was at Dubya's inauguration where it
proved its mettle. By Nick Mamatas

features
42 Voyeurschism
Nomad art movements explore the international wireless set and
chronic tourists' insatiable need to watch. By Carly Berwick

52 Hybridelity
Audio-visual is drawing artist across digital media into a multisensory
pursuit of the groove. By Tricia Romano

60 Mobile Homer
Architecture's odissey past spatial and material motion includes
temporal, funstional and social shifts. By Douglas Heingartner

66 The Great Communicators
In 1945 Arthur C.Clarke calculated that satellites placed in the right
orbit at the right altitude would change everything. By Frank Houston

reviews

70 Art
Panamarenko's experimental flying machines reflect the promises of 
their different eras. Plus: Jello show breaks the mold.

74 Sound 
High art meets hi-fi on quintophonic Immersion. Plus:Le Tigre's From
the Desk of Mr.Lady and Ladytron's 604

80 Screen
Film shorts' migration to handheld devices is stuck in a grainy holding
pattern. Plus: Carl Sagan's Cosmos series is now available to billions
and billions on DVD.

84 Words
Damien Broderick's The Spike: How Our Lives Are Being Transformed by
Rapidly Advancing Technologies. Maud Lavin's Clean New World: Culture,
Politics and Graphic Design.