A Bestiary of Anthropocene, On Hybrid Plants, Animals, Minerals, Fungi, and Other Specimens
Author

Nicolas Nova & DISNOVATION.ORG

Publisher / Label

Onomatopee

Country

The Netherland

Language

English

Publication year

2021

Type of publication

Book

Number of pages

256

ISBN

978-9493148444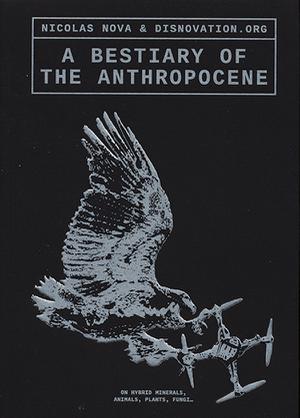 Index
INDEX

I. FOREWORD
01 A Bestiary of the Anthropocene Nicolas Nova

II. KINGDOM OF MINERALS
01 Chicken Bones Rocks
02 Glacial Erratics Rocks
03 Decapitated Mountaintops Rocks
04 Artificial Mountain Faux-rocks
05 Fordite Rocks
06 Plastiglomerate Rocks
07 Trinitite Rocks
08 Coastal Tetrapod Ocean Protections
09 Artificial Reefs Under-the-Sea Structures
10 Urk/urkopplad Hibernating Infrastructures
11 Afsluitdijk Sea Structures
12 Rock-Shaped Speaker Faux-rocks
13 Nuclear Crater Anthropogenic Craters

III. KINGDOM OF ANIMALS
14 Sea Skater Animals With Plastic
15 GM Aedes Aegypti Modified Animals
16 Plastic Eating Caterpillar Plastic Eaters
17 Homo Sapiens Modified Animals
18 Coal Mine Canaries Sensor Animals
19 Lab Rat Standardized Nature
20 Cannulated Cow Modified Animals
21 Goat/spider Silk Modified Animals
22 Animal Prosthetics Tools
23 Trapped Hermit Crab Animals With Plastic
24 Strangled Turtles Animals With Plastic
25 Microplastic-saturated Animals Animals With Plastic
26 Cultured Meat Modified Cells
27 Ocean Sentinels Sensor Animals
28 PigeonBlog Sensor Animals
29 Crittercam Sensor Animals
30 Military Dolphin Military Animals
31 Drone-catching Eagles Tools
32 Rat Bomb Military Animals
33 Animal Decoy Tools
34 DragonflEye Artificial Insects
35 BigDog Tools
36 Roomba Tools
37 Tamagotchi Software Companions

IV. KINGDOM OF PLANTS
38 Square Watermelon Standardized Nature
39 Hedgerows Standardized Nature
40 Plantation Forests Standardized Nature
41 Lawn Rolls Standardized Nature
42 Green Walls Faux-Plants
43 Cavendish Bananas Standardized Nature
44 GTS 40-3-2 Standardized Nature
45 Plastic/wood Nest Animal-Made Structures
46 Plastic Flowers Faux-Plants
47 Artificial Turf Faux-Plants
48 Barbed Wire Faux-Plants
49 Antenna Tree Camouflaged Technologies

V. KINGDOM OF MISCELLANEOUS
50 Black Mold Micro-fungi
51 Radioactive Mushrooms Fungi
52 Legionella Pneumophila Bacteria
53 Prions Misfolded Proteins
54 Bacterial Superbugs Bacteria
55 SARS-COV-2 Viruses
56 Pyrocumulonimbus Cloud Anthropogenic Clouds
57 Artificial Snow Anthropogenic Clouds
58 Contrails Anthropogenic Clouds
59 Cloud Seeding Anthropogenic Clouds
60 5G Technology Standards

VI. OBSERVATIONS
01 On Bestiaries Pierre-Olivier Dittmar
02 On Classification Matthieu Duperrex
03 On Artificiality Benjamin H. Bratton
04 On Recombinant Commons Aliens in Green
05 On Negative Commons Alexandre Monnin
06 On Anthropogenic Landscapes Anna Lowenhaupt Tsing
07 On Life With Non-Living Michel Lussault
08 On Planetary Indigestion Center for Genomic Gastronomy
09 On Ferality Pauline Briand
10 On Temporalities Geoffrey C. Bowker
Above: first computer bug discovered by Grace Hopper on Sep 9, 1947.