Mute - Issue 10 - MONGREL CULTURE
Author

Pauline van Mourik Broekman and Simon Worthington

Publisher / Label

Skycraper Digital Publishing

Country

UK

Language

English

Publication year

1998

Type of publication

Magazines

Issue number

Vol 1, No.10

Number of pages

80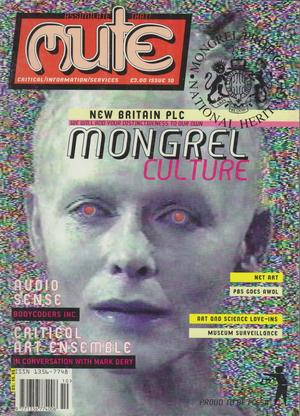 Index
Short/Cuts
NEW BRITAIN PLC:
Mongrel Culture - Here comes Everybody?
Lisa Haskel on a virulent new cultural meme   4

Signs of the Times at Camerawork
Rebranding Britain for the network economy   8

The Futile Style of London
Simon Pope's self-portrait of the digi-lifestyle   10

Lovebytes in th eNeck of Time
Sheffield hosts HyperTribes   12

MIKRO.BERLIN  6  PUBLIC_BROADCASTING  6
LEA@LUX  9  LAB OF LABS  14
VR-REDISCOVERED  15  TRANSITION  16

Main 
DISTANT RELATIONS
Science-Art - Genuine Collaboration or Business as Usual?
By Helen Sloan   18

VECTOR BLOCK ON
TELECOMS AVENUE
Mark Dery in Conversation with Critical Art Ensemble   24

CORPUS OF SOUND
Bodycoder and the Music Movement
by Drew Hemment   34

Sections
read me   54
Semiopolis.Alien Base.Mr.Rinya-Clacton's Offer. The Plague
of Fantasies.A Supposedly Fun Thing I'll Never 
DoAgain.Technology, War and Fascism. The Jew of
Linz.Postmodernism and the Other.

gaming   59
Quake II.Battlezone.Gettysburg
Lord Bichard of Mute addresses
the House of Lords on Computer
Games Classification

audiophile   49
Kula Shaker.Si Begg.Reviews

art tm   68
The Getty Centre Opening.
Net Art.KIT.ArtLAB

deep blue   45
Artists in the Maelstrom of Science.
Rhubarb Rhubarb.Specimen Jar.

shelf/life   63
Chesus Crust.